Click here become a Patron:  
Mark your calendars now for our 8th annual Black Tie & Burgers fundraiser on Saturday, October 8. The event will take place at a private home in Pasadena and, as always, a great time and excellent burgers are in store for guests. It's an event—and an opportunity to help community kids—you won't want to miss. Monies raised through this event will fund the programs and activities that help our kids build self-confidence, develop character and acquire the skills and knowledge necessary to become caring, compassionate adults.
We welcome you to help us continue to be a safe haven for those who need us most. If you would like to be added to the invitation mailing list and/or receive sponsorship information, please contact Brian Davis at (626) 449-9100, ext. 205 or at brian.davis@bgcpasadena.org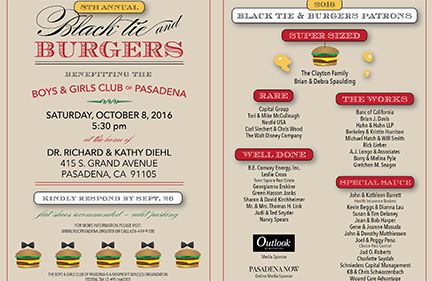 Patron Sponsorships are available.  If you would like to purchase a patron sponsorship, make a donation to support Black Tie & Burgers, or purchase tickets, you can do so online  and entering the following information:
Super Sized:  $10,000 (includes VIP seating for 10, transportation to and from the event, an assigned table attendant and bottle service, and special recognition)
Rare: $5,000  (includes preferred seating for 10, an assigned table attendant and bottle service, and special recognition)
The Works: $2,500 (includes preferred seating for 6 and special recognition)
Well Done:  $1,000 (includes preferred seating for 4 and special recognition)
Special Sauce: $500 (includes preferred seating for 2)
Individual Tickets:  $175 each
Click here become a Patron:  
You can use our online donation portal through PayPal to make a payment by credit card for any sponsorship or number of individual tickets.   You can also call the Boys & Girls Club of Pasadena at (626) 449-9100 at any time to make a donation or sponsorship arrangements over the phone.
And our deep thanks and appreciation to all our friends who made our 7th annual Black Tie & Burgers a great success:
Brighton Management, Capital Group Companies, The Clayton Family, the Chapman Family Foundation, Catherine "Tink" Cheney & Barry Jones, Community Bank, B.E. Conway Energy, Inc., Leslie Cross–Town Square Real Estate, Brian J.. Davis, Susan & Tim Delaney, Envision Consulting, Carmen Farmer, Hahn & Hahn LLP, Bob & Joan Harper, Berkeley & Kristin Harrison, Michael & Ellen Hatch & The Sterling Group, Health Insurance Brokers, Sherry & David Kirchheimer, Rick Lieber, Robert C. Lieber, Mr. & Mrs. Thomas H. Link, LittleMachineShop, Blake & Denise Longo, Gene & Joanne Masuda, John & Dorothy Matthiessen, Tori & Mike McCullough, Michelle & Jorge Montanez, Nestle USA, Leigh & Harry Olivar, Joel & Peggy Pena, Peggy Phelps, Barry & Melina Pyle, Schnieders Capital Management, Katherine B. Schwarzenbach, Mr. & Mrs. David C. Seager, Judi & Ted Snyder, Brian & Debra Spaulding, Drs. Byron & Gwen Spears, Nancy Spears, Stonegate Mortgage, Dr. Jae Townsend & John Heffernan, Tom & Laney Techentin, Mary & Bill Urquhart, the Walt Disney Company, Wells Fargo, Wells Fargo: The Private Bank, and Richard B. Wood.
In-Kind Sponsors:
Alaska Airlines, The Board of the Boys & Girls Club of Pasadena, Susan Delaney, Mitch Dorger, Michael Hatch, Pasadena City Councilmember Gene Masuda, Richard McCormick, Judy Phillips, Craig & Sandy Russell, Craig Stewart, Vanessa Tachiquin, Simon Waters; Alexander's Steakhouse, A Noise Within, Bicos Hospitality, Center Theatre Group, Claud Beltran/Claud & Co., Colombo's Italian Steakhouse, Craftsmen Brewing Co., The Flintridge Proper, The Huntington Library, Art Collection & Botanical Gardens, jetBlue, Just Fab, The Luggage Room Pizzeria, Millennium Biltmore Hotel Los Angeles, MUSE/IQUE, Daniel Hostettler/Ocean House, Orangetheory Fitness Studio, The Pasadena Playhouse, redwhite+bluezz, The Spot Gourmet, Theatre @ Boston Court, The Walt Disney Co., The Westin Pasadena.
Click here become a Patron: